Blasts from the Past: Oddball Holiday Specials

Some holiday specials are more special than others. Sure, we are all familiar with the big ones like A Christmas Story, A Charlie Brown Christmas, Rudolph the Red Nosed Reindeer, maybe National Lampoon's Christmas Vacation… They're classics, familiar and comforting. We can even count on series TV for a few good seasonal episodes.
But then there are those other holiday specials that are extra-special, the ones that are a little bit too far out there to win acceptance into mainstream tradition and that crop up rarely if at all. I love those. Overlooked, cheesy, or simply weird, they have their place at the table. Here is a small sample of my favorites, for your viewing pleasure.
Way back in 1977, the Canadian entertainment company Nelvana gave us a bit of awkward and inspired whimsy called A Cosmic Christmas. The animation is stylized, choppy, and repetitive. It wraps its seasonal message up in the adventures of a small boy, some fearful townspeople, a goose, and three space aliens standing in for the Three Wise Men. As far as I know, it was only broadcast a single time in the US—and lucky for me, I saw it. You can, too, on Vimeo.
Which leads us to our next show, the legendary 1978 Star Wars Holiday Special. As Wookie-centric holiday themed space variety shows go, this was… really special. Bea Arthur made an appearance. There was juggling. Chewbacca's son was named Lumpy. Lumpy! Nelvana was coincidently involved with this show as well, producing an animated segment that introduced the world to Boba Fett. The holiday special was broadcast only once before disappearing, but of course you can still watch it on Youtube.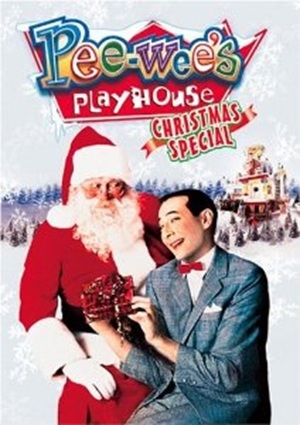 The 1988 Pee-wee's Playhouse Christmas Special skipped over outer space in favor of straight-on odd. The Christmas Special was as a surreal holiday variety show that was completely faithful to the show that spawned it. The special featured appearances by (among many others) Cher, Grace Jones, Oprah Winfrey, and Magic Johnson. The celebrities were sprinkled in among the usual wackiness of Pee-wee Herman's world of talking chairs, genies, and robots. You can watch it in low-res on Youtube, or for better quality, snag it on Amazon.
Last but not least, we have the 1991 Opus (literally), A Wish for Wings That Work, based on Berkley Breathed's comic strip Bloom County. It features a penguin who wants to fly, ducks, a burnt-out alley cat, assorted neurotic children, and a support group for flightless waterfowl. And Santa. And wishes that come true. No aliens. No variety acts. Just a sarcastic and sincere holiday tribute to hope and friendship. It is of course on Youtube. Or, if you're like me, you can get the book.
Now, I know I've missed a few, like The Simpsons, Pinky and the Brain, A Muppet Christmas Carol, even the multicultural Rugrats. Their holiday specials are also on the strange side, but they are also more firmly placed in mainstream series vehicles. The four specials I listed above are all way out there in their own unique ways—silly, smarmy, nonsensical, and snide. That's what makes them my favorites. They're like family—for all their flaws, it's just not the holidays without them. So, happy watching, and happy holidays!