Eye of the Devil Deserves a Look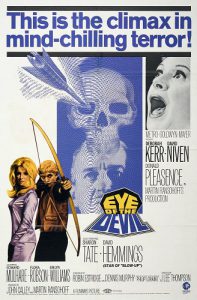 Eye of the Devil is a sophisticated yet familiar gothic horror movie, sprinkled with age-old rituals and inherited secrets. There is noblesse oblige, transmutation, hidden rites, and sacrifice. There is a damsel in distress. There is the inescapable weight of ritual and tradition. The characters are who you think they are. The plot goes where you think it will. And yet, Eye of the Devil compels you to watch it to the end. A tale does not have to be new to be riveting–but it must be well-told. 
And this is, on all counts.
***
Released in 1966, Eye of the Devil deftly mixes traditional gothic trappings with elements of folk horror. 
Set in a sprawling castle high above an ancient town, the plot is of course full of convoluted family history and dark mysteries. The Marquis de Montfaucon's rural estate has been in his family for a thousand years, and when the vineyards fail he is summoned back from Paris to put things right. In his ancestral home, Philippe de Montfaucon is swallowed up by ancient family responsibilities, and his wife Catherine struggles to save her family from the relentless pull of the past.
***
The actors' performances–cool, distant, reserved–create a feeling of isolation and estrangement that runs throughout the film. When events finally overcome them and hidden machinations are revealed, the emotional release is well-earned.
David Niven plays the Marquis Philippe de Montfaucon with mannered distraction, while Deborah Kerr imbues his wife, Catherine, with frayed dignity and dogged resilience. David Hemmings is cold and beautiful as Christian de Caray, the son of a local family. He is well-matched by Sharon Tate (in her first major role) as his sister, Odile. Rounding out the main cast, Donald Pleasence brings a quiet, secure power to the role of Pere Dominic, the de Montfaucon family priest.
Despite the restrained acting, each brings their character to convincing, guarded life.
***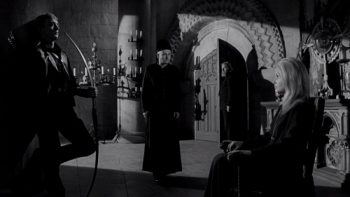 Enhanced by the moody distance created by the actors, a feeling of impending doom hangs over Eye of the Devil from its first scenes and never lets go.
Much of it comes from the stylish and stylized look of the film. The setting is almost overwhelming, with the castle's massive architecture set against a wide empty sky, sweeping expanses of flat, cultivated fields, and the claustrophobic town below. Crisp, sharp images contrast with the selective use of blurred and soft focus. The play of shadows and light and unusual framing, with faces seen through a screen of objects or bisected by another figure, add to the carefully constructed sense of alienation.
***
Eye of the Devil pays attention to its details, and it pays off richly. Despite its familiar ground, I found this film absolutely fascinating, full of resignation and resolve and half-heard conversations. Perhaps in 1966 its horror was shocking, but in 2020 its deliberate unfolding reveals nothing truly unexpected. Still, its grim descent is very, very satisfying, and well worth a watch.