Blood Quantum Peels Back the Skin
Blood Quantum presents its take on the zombie apocalypse with a sure hand and a wry sense of humor. It starts in the usual place, and follows the generally accepted plot line of zombie flicks, but it also chooses a much-needed new perspective. By focusing the story on the experiences and actions of its First Nations characters, we get a view of the end of one world from another one that may just survive.
***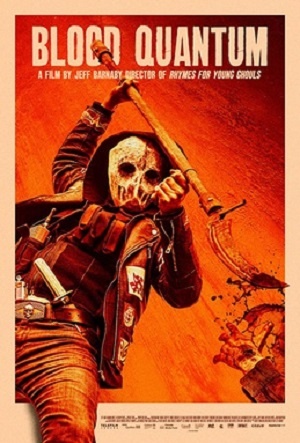 Set in 1981 on the Red Crow Reservation in Quebec, Blood Quantum wastes no time in diving into the beginnings of the plague. To do so, it relies on most of the instantly-familiar tropes of zombie horror. As always, people begin to act strangely. Animals won't stay dead. People become violent, dangerous, bitey. Chaos erupts at the hospital. Things go downhill fast. 
The zombies here are dubbed "zeds", and the tribe figures out very quickly that headshots are the best method of stopping them–but they still burn the bodies to be sure. The tribe also figures out very quickly that this plague turns White people into zeds, and that Indigenous people are immune.
Six months later finds the reservation transformed into an armed compound, with the Red Crow tribe holding their own and rescuing what White survivors they can. But there are long-standing family conflicts, wide-open racial wounds, and the question of how dangerous or vulnerable a new baby will be. As always, somebody lets the zombies loose in the middle of it.
***
The actors are excellent in roles that are familiar, but still outside the usual zombie apocalypse range.
Michael Greyeyes brings a believable dedication to Traylor, the reservation sheriff.
Elle-Máijá Tailfeathers is frustrated, competent, and caring as Joss, a nurse and Traylor's ex-wife
Forrest Goodluck plays Joss's and Traylor's son, Joseph, as a good person struggling to make better choices.
Kiowa Gordon is Traylor's other son, Lysol, who has already embraced his rage at what the world has handed him.
Stonehorse Lone Goeman gives Gisigu, Traylor's father, both wit and gravitas as an elder intending to make a stand.
Olivia Scriven is sympathetic as Joseph's pregnant, White girlfriend, Charlie, who's condition raises both real-world and horror movie questions.
***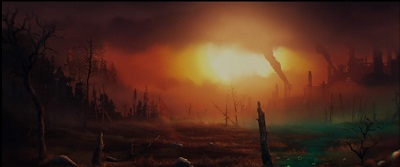 I was struck by how beautifully filmed Blood Quantum is. It opens with a spinning shot of sea and sky, bridge and shoreline, before it descends into the reservation and the town. There are brief segments of animation mixed into the live action, bringing to mind the spaciness and style of Mandy but on a more human level.
The gorgeousness extends to the splatter, as well. And there is a lot of it. Beside the thoughtful sociological issues it raises, Blood Quantum is a good, gleeful, old-fashioned gore-fest. 
It is full of great effects, from the makeup to the sunlight glistening off entrails to the creative destruction of various zeds. 
***
My takeaway? Tight, engaging, and fast-paced, Blood Quantum packs a lot of story into an hour and a half. It raises issues that need to acknowledged, while still delivering a great little horror movie. This is definitely one to watch, and relish, more than once.