Rare Exports Delivers the Goods
Rare Exports: A Christmas Tale is absolutely delightful. Written and directed by Jalmari Helander, the 2010 Finnish comedy-horror film has a sly sense of humor, a creepy troupe of monsters, and a youthful sense of wonder. Based on his somewhat grimmer 2003 and 2005 shorts, the full-length version of Rare Exports plays like a children's movie that took a left turn at Albuquerque and just kept on going.

***
Rare Exports's plot is quite simple, resembling nothing so much as a strange, silly fairy tale. It is set just before Christmas, on Korvatunturi Mountain at the Finnish-Russian border. Legend has it that the mountain is a vast grave where ancient Laplanders buried the frozen body of a gigantic demon.
A foreign mining company is excavating there, looking for the legend. They uncover something big, and dangerous–especially if you misbehave. Pietari, a young boy who still believes in Santa Claus, accidently sees what the miners have dug up and realizes that he will need to work fast to keep his family safe.
No-one believes Pietari's warnings. But when his father captures a bloodthirsty, not-so-jolly old elf and tries to sell him back to the mining company, they discover that the elf is not the real problem at all. And so Pietari takes control of the situation, ordering his father and the other men around according to his own clever plan and ultimately saving the day.
***
The cast is outstanding. Onni Tommila and his father, Jorma, play the heroic Pietari and his father, Rauno. Ilmari Järvenpää plays Pietari's slightly older and cooler friend, Juuso, while Tommi Korpela plays Juuso's English-speaking dad Aimo. Rauno Juvonen rounds out the group as Piiparinen, Rauno's friend and sometime village Santa Claus–the traditional kind.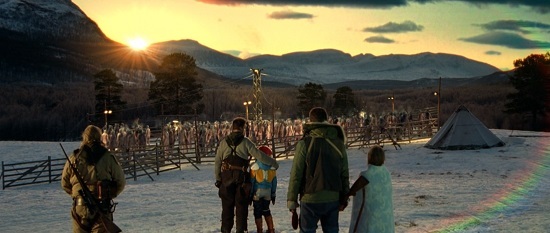 ***
Rare Exports's horror element is not exactly horrifying. The dirty, feral, naked old elves are as ridiculous as they are dangerous. They are Santa's helpers, all right, eating gingerbread, sniffing the air for children, killing anyone who curses, drinks, or smokes, and working to release their master from his imprisonment. Wisely, Rare Exports's monster-Santa is left to our imaginations, showing up as illustrations in various old books and as a huge pair of curved horns jutting out of an enormous block of ice.
The comedy is rather gentle, as well. Pietari, his father, and their friends tend toward goofiness rather than cruelty, and they are all basically honest people. But that does not mean there isn't a lot of blood. Pietari's dad butchers reindeer for a living. Somebody loses an ear. The elves do their killing with shovels and pickaxes. Gore happens, but somehow the movie manages to keep the mood light and playful.
I think the never ending supply of gingerbread has something to do with it.
***
Will Rare Exports: A Christmas Tale become a holiday staple like It's a Wonderful Life, or Gremlins? Maybe. It certainly has plenty of family warmth, charm, and the magic of the season to go with its murderous elves and commercial aspirations.
And really, isn't that what Christmas is all about?