Caravans Awry , an anthology of carnival weirdness edited by Duane Pesice, is well worth the price of admission. Each piece is set at some point on Route 66 and at some time during the 1960s, giving the assembled stories an aura of nostalgia to go along with their creepy happenings. 
Opening with an atmospheric prose-poem from Maxwell Ian Gold that shares the anthology's title, Caravans Awry proceeds to spill over with murder and mayhem, hauntings and time travellers, familiar landscapes and alien dimensions. Interspersed among the nineteen tales are poems from Donald Armfield, Adam Bolivar, Frank Coffman, K.A. Opperman, Ashley Dioses, and Sean M. Thompson. Like any good circus, there is something for everybody. 
Just step right up.
***
"The Association" by Duane Pesice is a strange and sweet love story flavored with autumn and urban legends.
"An Autumnal Stain" by Matthew A. St. Cyr gives an hour-by-hour account of what happened when a certain circus came to town.
"Circus of Crows" by Russell Smeaton is a coming of age story, of sorts, as a teen-aged girl finds out who her people truly are.
"The Sundowners" by Sarah Walker blends family mysteries with fading memory into a tale of failure and loss.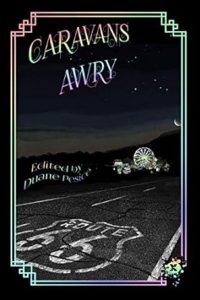 "Nanosophobia ~ The Fear of Clowns" by A.P. Sessler shows that it isn't the clowns we should be afraid of.
"My Summer Job" by Ralph Rotten is the most lighthearted story here, with the carnival hosting an odd study-abroad program.
"The Tulsa Devil" by T.M. Morgan initiates its main character into sideshow life–and something else, entirely.
"Two Silver Dollars" by Scott J. Couturier contrasts kindness with utter greed, and throws in the end of the world.
"Sometimes We Come" by Shayne K. Keen delivers well earned justice and a safe home for an outcast. A hard read, but satisfying.
"Ice" by Jill Hand skips a supernatural element but delivers a sly and disturbing sideshow story all the same. One of my favorites.
"Calliope Comes Back" by Peter Rawlik gives a subtly silly Lovecraftian take on the horror of clowns.
"The Price of Admission" by Maxwell Ian Gold is a ticket to a far stranger experience than any earthly circus could offer.
"A Day at the Circus" by E.O. Daniels shows how deeply the source of happiness and normalcy can be misunderstood. 
"A Tale of Two Mirrors" by James Fallweather presents a carnival that is no escape from the ugliness of real life, but a reflection of it.
"Wires" by John Linwood Grant is a delicately told tale of want and wanting to belong, and of a mere mortal robbed by something that used those desires against him. Another favorite.
"Loop" by S.L. Edwards shows that some things, no matter how seemingly attractive, belong loose in the world.
"The Procurer" by John Paul Fitch demonstrates exactly how some monsters are made.
"Mother Road" by Candace Wiggins is, like all her stories, deeper than it first appears. A cub reporter finds a story she can't tell when she goes looking for a certain circus performer. Another favorite.
"Red Right Hand" by William Tea is the sad tale of a young man too hurt by the world to make a choice for something better.
***
There is something both eternal and ephemeral about travelling circuses, and the wide selection of stories and poetry in Caravans Awry capture that strange and changeable spirit. I recommend it highly.