Pomegranates, Priya Sharma's latest novella, retells the myth of Persephone from angles that cast a very different light on the ancient, often-overshadowed goddess of spring. Gods, a few mortals, and a chorus of unnamed voices take turns with the telling, creating an untraditional and surprisingly touching version of a familiar story.
I've always found Persephone to be a fascinating blank-slate. In Pomegranates Sharma fills her with maturity, agency, and a tangle of emotions instead of her usual bland victimhood. This Persephone is less mysterious, but far more interesting. This Persephone has her reasons.
***
Persephone suffers a loss and mourns it deeply, threatening to destroy the world with her all-consuming grief and anger. Her refusal to leave the Underworld allows winter to spread unchecked, freezing the earth to ruin. But then a living man finds his way into Persephone's inherited domain, bringing her news of what her refusal has done. And the goddess of two opposing dominions finds she will have to make a choice of which realm she will inhabit.
***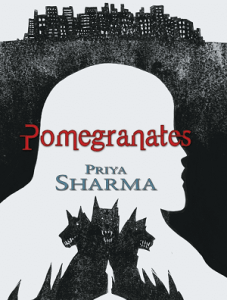 The myths of Persephone and Demeter are inextricably intertwined, and Pomegranates is built on the complexities of their mother/daughter relationship. Here, Demeter straddles space and time as an ancient goddess, a child, and a modern woman who makes choices her daughter doesn't understand. Here, under the protection of her uncle, the god Hades, Persephone outgrows being a soft, helpless girl and takes her fate into her own hands. It is she, not her mother, who holds the power to give or withhold the springtime. It is she who actually can rule over both life and death.
***
Pomegranates is a beautiful read. The prose is dreamy, melancholy, and often almost poetic. The themes are huge, and intimate, all at once. Gods fade and die. Psychology intersects with blind faith. Scientific defense of the environment meets divine renewal. There is both deep sadness and great hope in how this new myth unfolds. I recommend it highly.