Read This: Screaming Creatures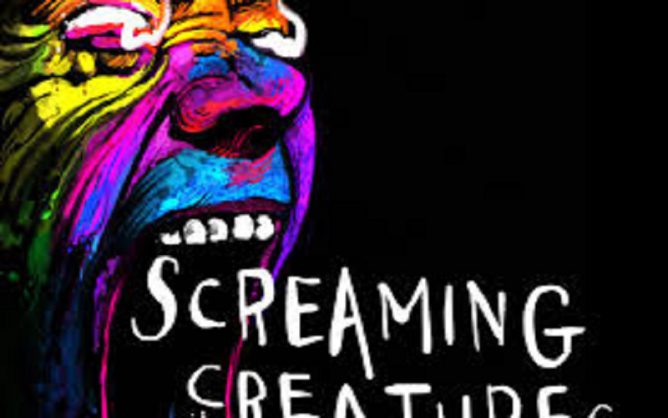 Screaming Creatures, Sean M. Thompson's new collection from Nictitating Books, offers up fourteen meaty tales of horror and weirdness. They often tread familiar ground, but there are enough quirks and twists to keep thing interesting.
Thompson experiments with a wide variety of narrative styles, and with horrors beyond the supernatural. His characters are prey to addiction and abuse, in addition to the monsters that wander among them. Their relationships range from the secure to the profoundly dysfunctional. They rarely find redemption, or even solid footing. Injecting real-life traumas into often over-the-top splatter adds a depth to the goings-on that drew me in.
***
"Sunny Village" begins with the reliably unsettling idea of seeing something you can't explain and shouldn't witness, and ends with a left turn and a lot of loose ends.
"The Cliffside Tavern" is a good, old-fashioned watery ghost story.
"Centralia" was my favorite of the bunch, with its creepy video gaming superimposed on a famously creepy setting. It had me looking over my shoulder more than once.
"3 A.M. Orphan" is a strange, Twilight Zone take on someone who was never there.
"Cat's Claw Llc" presents an isolated office building, suave man-eaters, and a woman who accepts a very tasty job offer. Off-kilter and oddly fun.
"Make It A Double" takes on the trope of evil twins, with the addition of ghosts, alcoholism, and hippies.
"Dead Visions Review" is styled as a movie review of a disjointed, bloody film that may or may not be cinéma vérité.
"Kiss Of The Succubus" starts off as a hard-boiled detective story with demons, then veers into introducing a monster-hunting agency. This should be a novella, at least.
"Metronome" is the classic tale of a writer being destroyed by the demons in his own work. 
"The Silent Man: A Documentary" is written as a transcript, and is reminiscent of The Blair Witch Project and the found-footage genre.
"Rot Gut" is a Western, with a terrible stranger haunting the dreams of a dusty small town.
"The Blind Opera", told in the second person, follows a dangerous video, secret government experiments, and a wealthy psychopath who has figured out how to find out what it all means.
"Cycle" uses alcoholism as the engine driving the horror along, this time in a family riddled with violence.
"Screaming Creatures" is a long, slightly disjointed musing on the state of madness and the human race, punctuated with plenty of gory violence.
***
Overall, Screaming Creatures is an entertaining ride with a few rough edges that has to potential to be more. Bloody, scary, and eerie, I think it does a fine job of engaging its readers. But while full of ambitious ideas, a few of the stories ("Kiss of the Succubus" and "Rot Gut", in particular) feel like they end in medias res. I wish they were fully-developed novellas. If Thompson chooses to expand them, I will be more than happy to keep reading.