Shadowdays, the latest novel by Polly Schattel, is a deeply uncomfortable tale. After drawing us in with a classic revenge plot, the story takes a series of progressively more disorienting turns until its conclusion comes dramatically crashing down. Shocking, sad, and unsettling, Shadowdays drags us along on a wild ride. I couldn't look away.
***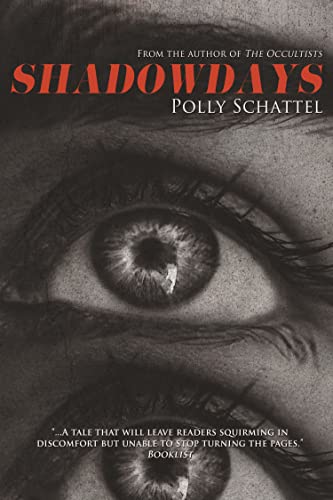 Melissa Sweet, a nurse, is just getting back on her feet three years after making a tragic medical error that resulted in a baby's death. Then, her own family is brutally attacked before her eyes. The police assigned to the case are overworked, jaded, and no real help, so Melissa begins her own investigation. But despite initial successes she begins to lose control of the situation, and her life soon starts to spiral out of control.
As the main character, Melissa is not exactly likeable, and less sympathetic than she should be given her circumstances. She is damaged, and struggling, and unsupported as she reckons with her past. Although the novel is told in the third person, there is no space between the reader and Melissa. Everything is her physical state, her feelings, her reasoning, her perceptions. Any other characters are brief sketches seen entirely through her eyes. The effect is immersive.
While the story itself is relatively straightforward, the details become progressively more disorienting as the plot goes along. The more that connecting bits of Melissa's past are revealed, the more uncertain the novel's trajectory becomes. There's no question of suspending disbelief, because, while providing context, the slowly-uncovered layers of Melissa's life make it harder to know what to believe in the first place. It's a neat narrative trick.
***
With Shadowdays, Schattel goes deep into her troubled character's mind and gives us a taste of what it feels like when you cannot trust yourself. It is not an easy experience. Still, Shadowdays is as compelling as it is disturbing, and it is well worth a read.