Read This: Shout Kill Revel Repeat
Shout Kill Revel Repeat, Scott R. Jones's new collection, is a dizzying trip through the void.
Lovecraft's ideas make frequent appearances, but not as pastiche. Jones's stories fly in multiple new directions, at turns frenetic and understated, militaristic, mystical, and sinister. 
His meaty, visceral prose and plots that flow in great loops across time and space, peopled with ghouls and Old Ones and shoggoths, imply motives and purposes that cannot even be recognized by frail humans. Jones does a remarkable job of conveying the utterly alien incomprehensibility of the Lovecraftian cosmos. His characters struggle to navigate a universe that doesn't care if they exist or not. They are irrelevant to everything but themselves, and they know it.
***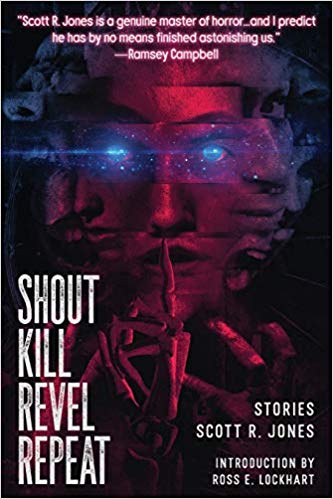 Shout Kill Revel Repeat gathers seventeen tales of cosmic horror and science fiction that are immersive and jarringly realistic for all their weirdness. The common thread I find running through them is the instability of time, and what that instability costs. Plots and events are slippery things, unanchored and inconstant, while characters fight to keep their balance. It is all quite beautifully done.
My favorites are:
"The Spike", which uses an ambitious employee in far over his head to introduce us to Eidolon Corporation and the recurring character of Aldo Tusk, a weird and mysterious tech magnate. 
"Last Stand at Cougar Annie's", an end of the world scenario after genetically altered men–and militarized women– have become the enemy. 
"Living" brings back Aldo Tusk, isolated in the arctic and facing down a driven, adaptive, and superhuman weapon of his own design. 
"Assemblage" Point" reads like a strange, gorgeously convoluted take on Sunset Boulevard's story structure. It's one of those uncommon second-person narratives that wouldn't work properly from a different point of view.
"Wonder and Glory Forever" connects a lost and motherless man with the devout worshipper of an ancient sea god, in a surfing community in the Pacific Northwest. Vividly told, and compelling in its half-revealed secrets.
***
Jones, the man behind the late Martian Migraine Press, has also just released the novel Stonefish. So if you enjoy the dark worlds of Shout Kill Revel Repeat, there is immediately more to be had. I highly recommend diving in.