Read This: SLAY: Stories of the Vampire Noire
SLAY: Stories of the Vampire Noire, edited by Nicole Givens Kurtz, collects twenty-eight stories of Black vampirism in an action-packed anthology. Here can be found ancient vampires, newly-made vampires, vampire slayers, and many strange, hybrid creatures in between. They stalk each other in cities and in the wilds, from North America to Africa to Europe, across the lushly decadent past, the present, the near future, and into the post-apocalypse age. There is a great deal of romance and even more intrigue mixed into the bloodletting. SLAY does a fine job of offering something for every taste.
***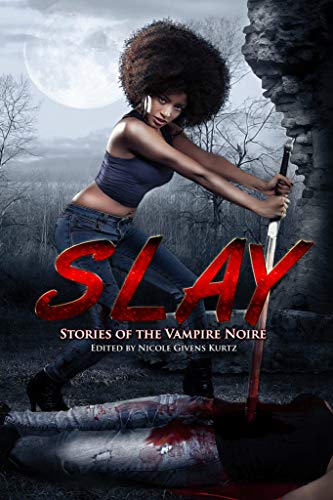 My personal favorites are:
"Snake Hill Blues" by John Linwood Grant gives us Mama Lucy, an old hoodoo practitioner, and blends the vibe of the jazz age with the soul of old, potent magic. Earthy and strange.
"His Destroyer" by Samantha Bryant sees an Egyptian woman turned into an instrument of vengeance against Pharaoh by a force more powerful than her death.
"Quadrille" by Colin Cloud Dance introduces one magical being after another as a vampire becomes part of an unplanned but close community. Oddly charming.
"No God But Hunger" by Steve Van Samson is a particularly rich tale of societal collapse and individual survival set on the Kenyan plains. Here, vampires and humans are both predator species competing for the same dwindling resources. Beautifully told.        
"Bloodline" by Milton J. Davis sets its vampires in a science fiction-inflected dystopia where the bloodsuckers are neutered and at the mercy of a new Inquisition–until they aren't.
"Message in a Vessel" by V.G. Harrison introduces space colonization, vampire supremacy, human bondage, and an underground rebellion to keep humanity alive. Thoughtful, and with room to grow.
Speaking of room to grow, several selections, based on their scope and elaborate worldbuilding, seem to be parts of larger works. If they aren't, they certainly should be. These include "The Last Vampire Huntress", "Gritty Corners", "Unfleamed" (which I found especially engaging), and "Blood Saviors".
***
SLAY: Stories of the Vampire Noire offers wide-ranging visions of vampirism told from a Black point of view. They span from the traditional to the bizarre, from the purely playful and escapist to the political and philosophical. There is a lot going on in this anthology, and I found myself left with a number of memorable characters to haunt me after I'd finished reading. I enjoyed SLAY very much, and heartily recommend it.