Ant Man and The Wasp Has Some Bugs to Work Out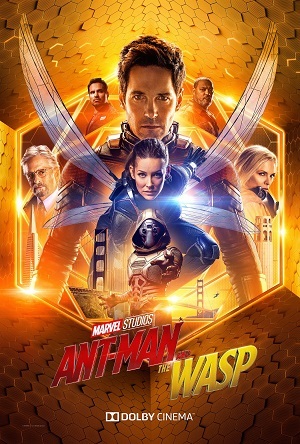 Ant Man and The Wasp is very much like its predecessor–a lightweight, likeable Marvel Universe flick that is still essentially a throw-away. It has the same cast as the first movie, the same tricks, and a little bit of story arc for an audience to invest in. Ant Man and The Wasp does introduce some potentially interesting new characters, but it is ultimately an exercise in getting from the first Ant Man to whichever Marvel blockbuster Scott Lang is meant to show up in next.
Some Minor Spoilers Ahead
The usual suspects are all back.  Paul Rudd is still charming as Ant Man, but he isn't allowed to be as warm and funny as he was in the first movie. More emphasis is placed on his dad skills this time around. Evangeline Lilly continues to be intense and hyper-competent as Hope, while Michael Douglas continues to be snarky and arrogant as Hank Pym.
Michelle Pfeiffer joins the cast as Janet van Dyne, in a role so predictable I wonder why she did it. We also get Laurence Fishburne as Bill Foster, an old frenemy of Hank Pym from their SHIELD days, and Hannah John-Kamen as Ghost/Ava. I truly hope she gets her own movie someday. The perfunctory overview of her origins and her relationship with Foster raised a whole lot of questions I would like to see answered.
Despite the star power of the main characters, the secondaries are the real interesting ones. Michael Peña's Luis owns every scene he is in. Randall Park is great as the awkward FBI agent Jimmy Woo, while Walton Goggins is cheerfully sleazy as black marketeer Sonny Burch. Unfortunately, T.I., David Dastmalchian, and Bobby Cannavale were given far less to do than in the first Antman–and the film suffers for it.
Stay On Target!
Overall, it's a strange mix of too little and too much.
The plot comes across to me as flat and perfunctory, with the characters moving through the script without truly believing any of it. The action is solidly done but meaningless, since only some of the characters rise enough above caricature to make it worth caring about their outcomes. Which is a shame, because the cast is certainly capable.
Piling on that weak foundation are too many problems for any one of them to really matter. We are presented with a dangerous new antagonist in Ghost, a quest to bring the original Wasp out of the quantum realm where she has been trapped for the last thirty years, a persistent probation officer, and a wanna-be crime lord looking to steal Hank Pym's discoveries. In between all that, our hero is doing his best to be a good dad to his daughter, despite being an ex-con superhero currently riding out house arrest.
The incredible shrinking quantum lab is pretty neat, as is giant Ant Man wading into the harbor to retrieve it. Scott Lang's suit issues are an effective running gag, and the giant ant hanging out in Scott's apartment is good silly fun. But the fun stuff isn't enough to lift Ant Man and The Wasp above its issues.
What Bugs Me
I wanted to like Ant Man and The Wasp. I like the actors, I like the characters, I like the gimmicks. But the whole film ended up being less than the sum of its parts. Once again, Marvel puts Ant Man into a cotton-candy movie that is fun while it lasts but no longer–and, this time, less entertaining than it should have been.