Mandy: Love, Loss, and Nicholas Cage on a Rampage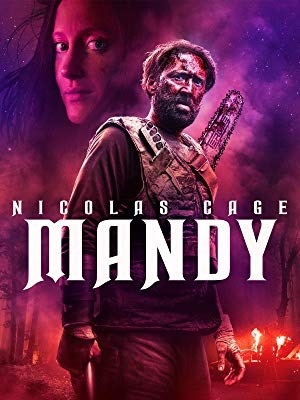 Mandy isn't the kind of movie that can be ranked on a scale of good to bad. It it horror? Action? Satire? There is too much of everything going on to pin it down. It has a seventies-style murder cult. It has early eighties Satanic monsters. It has timeless, Z-grade movie revenge fantasy. And it has Nicholas Cage in a star turn, chewing the scenery to shreds with unwavering passion and enthusiasm. And still, so help me, this goofy, dreamy, blood-spattered mess pretty much works.
"So, what you hunting?"
Mandy is at its heart that old story of love and revenge. It begins with Red smoking, scowling, and cutting down a tree with a chainsaw. He returns home to his girlfriend Mandy, who is oblivious to the world as she creates her fantasy art. In a tidy bit of foreshadowing, Red wants to move away from their isolated house in the woods. Mandy wants to stay.
It isn't long before the leader of a religious cult notices Mandy and becomes fixated on her. Naturally, the cult summons a demonic biker gang, captures Mandy and Red in their isolated house in the woods, and does some very bad things. Unfortunately for the cult, killing Red isn't one of them. They make the mistake of leaving him wounded, bereaved, and alive–which sets the stage for vengeance, mayhem, and a whole lot of Nicholas Cage grimacing like a maniac.
"Bikers and gnarly psychos"
The cast does a remarkable job with some very strange material, and the performances are balanced between the absurd and the sublime. Nicholas Cage is the center of the film as  as Red, muttering and screaming in anguish, in pain, in battle, pulling out all the stops in a riveting orgy of overacting. 
In contrast, Andrea Riseborough turns in a beautifully underplayed performance as Mandy. Riseborough resembles Shelly Duvall in The Shining, and her Mandy seems to exist half in this world and half in her own imagination. Her flattened inflection is hauntingly realistic when she speaks–which makes her mocking laughter all the more devastating when she lets it out.
Linus Roache plays Jeremiah Sand, the charismatic cult leader, with the depraved mania of Dennis Hopper in Blue Velvet. His Jeremiah is intense, crazy, dangerous, and musically-inclined, just like Charles Manson. Also like Manson, his followers refer to their victims as "pigs".
Filling in the rest of the characters are Ned Dennehy, Olwen Fouere, and Hayley Saywell as cult members, Bill Duke as Red's well-armed friend Caruthers, and Richard Brake as a psychic drug maker with a pet tiger.
"You're a special one, Mandy"
For all its weirdness, Mandy is a deliberate, artful piece of movie-making. Each component supports the precisely off-kilter whole.
Live action is interspersed with psychedelic animated segments, turning Mandy into a spacey and hallucinogenic experience. The pacing of the entire film is slow, with elongated scenes and fantastic imagery that make watching it feel like seeing a video for a concept album. The music certainly helps build that feeling, with a dirgelike opening song and a creepy synthesiser soundtrack.
The dialogue manages to be off the cuff, over the top, deadly serious, and pure pulp snark nearly simultaneously. There is plenty of intentionally garbled mysticism tossed in from all directions, creating an air of ironic self-importance and pseudo-profundity. Characters veer between deep thoughts and bad jokes and back again.
The whole film feels at once familiar and alien, using recognizable references to other horror/thriller movies but giving them a very wry twist. In addition to the hints of Charles Manson, there are the Black Skull bikers that look like cousins to the Hellraiser crew, an image like the vampire boy at the window in Salem's Lot played in reverse, and a location named Crystal Lake.
Mandy is the kind of film that flatly dares you to try to categorize it.
Oh,
Mandy
Mandy's strange vision is hard to process. The action doesn't really start until nearly three quarters of the way through the movie, when Nic Cage's Red is covered in blood and coked to the gills, with a crossbow and a battle axe in hand. There are stagey, cartoonish kill scenes any slasher film would be proud of, spectacular and cheesetastic gore, and one of the oddest chainsaw duels I've ever seen.
But I enjoyed this movie far more than I ever thought I would. Mandy is a tour de force for Cage, and a hell of a ride for the rest of us.