Read This: Night Terrors & Other Tales
Lisa Morton's Night Terrors & Other Tales examines a variety of social ills and issues through a horror lens with clarity and pointed storytelling. There are plenty of traditional themes, from mad slashers and weird science to black magic and zombies. But there is also a great deal more here than monsters. The twenty-one stories collected here provide a lot to think about, and many of them cannot easily be read as just entertainment. 
But that doesn't mean they aren't entertaining. 
***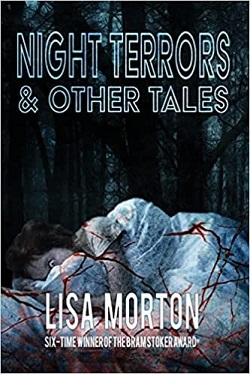 "Tested" happens in a dark forest, where a man faces down demons both real and imagined.
"Poppi's Monster" follows a damaged, unprotected child who finds comfort in an old horror movie. 
"Blood for the American People" shows us the intersection of patriotism, predation, and power. 
"Joe and Abel in the Field of Rest" explores loneliness and the need for companionship after the zombie apocalypse. One of my favorites, here.
"Sparks Fly Upward" is another zombie tale, with a very precise comparison to the current state of reproductive rights in America. 
"Love Eats" measures the cost of an unhealthy relationship. 
"The New War" takes on the pain and indignities of aging through memories and a lurking monster.
"Black Mill Cove" is an old-fashioned hunted-man story that would fit well in an Alfred Hitchcock anthology.
"The Ultimate Halloween Party App" blends cyberpunk with terrorism for a devestating new threat. Also a favorite.
"The Resurrection Policy" gives the quest to live forever a classic double-cross twist. 
"Feel the Noise" is told through the POV of an ex-soldier dealing with the aftermath of war and war crimes.
"The True Worth of Orthography" is where magic meets technology through graphic design. 
"Erasure" looks at a terrible way to deal with loss. 
"The Rich are Different" reaches back to that old, old time religion when gods were monsters.
"Pound Rots in Fragrant Harbour" is a strange tale of intersecting lives, that feels unfinished to me. 
"The End" is an intimate take on an existential horror movie.
"The Secret Engravings" finds Hans Holbein making a bargain with Death to escape a fearsome fate. 
"A Girl's Life" approaches Innsmouth from a new angle.
"Trigger Fate" is a deeply sad 'what if?' that takes place in the imagination of a dying girl. Another favorite.
"Larue's Dime Museum" is a strange journey through time and alienation seen through a photographer's lens.
"Night Terrors" brings us a plague of screams in the night that seem to release the screamers from the terrors of the waking world. 
***
Night Terrors & Other Tales is a highly-readable collection of thought-provoking, intelligent horror. Morton is nothing if not an expert at fusing clear-eyed commentary with compelling storytelling. She uses Night Terrors & Other Tales to explore both the human psyche and the state of society. And she is effective at it. The settings and characters are what we encounter every day in the real world–and the nightmares are just as familiar. I highly recommend it.