Read This: The Eldritch Equations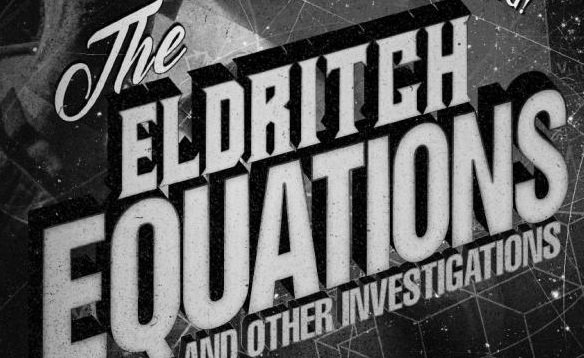 The Eldritch Equations, Peter Rawlik's vastly entertaining new novel from Jacknapes Press, connects a series of Lovecraftian adventures into an atmospheric, multifaceted whole. While The Eldritch Equations revolves around the titular central mystery, it opens doors to a number of others. The interrelated plots are spiced with humor and romance and strange alliances, gunfire and spells, terrible magic, weird science, and good old-fashioned detective work. There are undercurrents of much darker things at work behind the action, and promises of more occult adventures to come. 
This is a very good thing.
***
The detective agency of Halsey, Peaslee, & Lydecker specializes in witch-haunted Arkham's weirder cases. With familial connections, unique personal circumstances, and great wealth, these intrepid investigators move easily among the area's mundane inhabitants as well as its less earthly ones. So when a series of bizarre murders–whose victims are all connected by some extremely non-Euclidian geometries–occurs, HP&L is where the probable next target turns for help. The firm takes on the investigation, only to find that mystery piles upon mystery, and solving one only reveals another behind it. 
Presented as a series of reports, The Eldritch Equations is told through the observations of multiple characters, and digresses quite often before returning to the primary plot. Rawlik shifts seamlessly between the various voices and changing narratives, building suspense as he goes with dropped hints and casually mentioned backstories. Everyone has a secret. Some are made plain to the reader–and some are only revealed in tantalizing glimpses. The steady drip of partial truths and half-spoken innuendo gives tremendous richness to the world these characters inhabit.
***
The Eldritch Equations is a wonderful read, dark and playful and true to its inspirations. Rawlik creates his own exciting version of Lovecraft's fabled landscape, full of rich descriptions of hearty meals and less wholesome things, and vivid imagery of the weird and unnatural. There are a wealth of subplots and possibilities woven through, raising more questions than they answer to great effect. Beneath the action and intrigue there is a depth to the characters that begs to be explored in additional stories. The family conflicts alone would be another novel that I would happily lose myself in. 
I highly recommend this.